TREO ARTS GALLERY
The Treo Gallery and luscious side yard  has many uses..check out our events page for music nights, movie nights, painting classes, private dinners,  lectures and more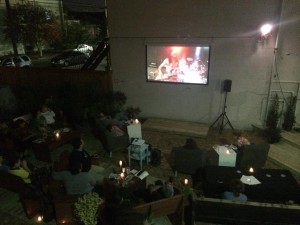 For a full listing of events, please check out our events page!
Overlooking the blossoming Tulane Corridor, Treo's 1400 sq ft gallery opened in February of 2014. The renovated space creates an approachable and peaceful yet vibrant setting for artistic expression.
Treo offers exhibitions on the first Friday of each month from 6:30-9, accompanied by a reception. The art remains on display to be viewed by our guests throughout the month. All Art is available for purchase.
We are proud to have Mid-City's local artists help curate Treo's monthly shows. Our goal is for the youthful vibe of New Orleans and in particular Mid-City's growing art culture to be integral in every exhibit.
An accomplished artist in her own right, Pauline Patterson co-owns the gallery with her husband Stephen. A native of Ireland, Pauline attended the University of Ulster, completing post-graduate work for her degree in Art Education. Along with a graduate degree in Fine Craft Design and certified in Art Therapy, Pauline brings a unique style and perspective to Treo's gallery.